2019 Events
---
The 13th World Congress on Brain Injury is coming to Toronto March 13, 2019 and we are proud to be a Platinum sponsor
We would like this World Congress in March of 2019 to be the best conference ever – the best content, the best attended and the best sponsored!
In order to do so, we need our Canadian experts to respond to the call for abstracts below. Please note that the due date for abstracts is November 19th
CALL FOR ABSTRACTS , Toronto, ON
– March 13, 2019
---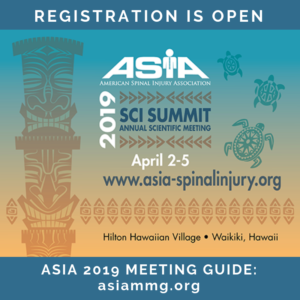 Join us in Hawaii for the ASIA 2019 Scientific Meeting "SCI Summit" Registration is Open.
Book your hotel room and air travel now!  Complete conference information can be found online here in the Mobile Meeting Guide.
April 2-5, 2019
---
Canadian Advances in Neuro-Orthopedics For Spasticity Congress (CANOS), University of British Columbia (UBC) division of Physical Medicine and Rehabilitation, April 5-6, 2019.
---
2019 GTA Rehab Network's Best Practices Day , Toronto, ON May 3, 2019.
---
2019 Tamarack Ottawa Race Weekend, (3 days prior to the CAPM&R 67th Annual Scientific Meeting in Ottawa-Gatineau). The Ottawa Race Weekend is one of the largest road race events in Canada and attracts world-class professional athletes. In 2018, over 35,000 participants ran in 6 events, including the marathon, half-marathon, 10K, and 5K – bring your families and run together in the family 2K. Visit https://www.runottawa.ca/ for more details and to register! May 25-26, 2019.
---
CAPM&R 67th Annual Scientific Meeting, Ottawa-Gatineau, ON, May 29 – June 1, 2019.
---
8th National Spinal Cord Injury Conference, Niagara Falls, ON, October 17-19, 2019.
---

58th International Spinal Cord Society Annual Scientific Meeting in Nice, France from 5 – 7 November 2019. Abstract Submission Opens 4 January and closes on 30 April 2019. November 5 – 7, 2019