2019 Events
---
7th Annual Concussion Research Symposium Advances in Concussion Research, Including Concussion in Women & Girls November 2, 2019
BMO Education and Conference Centre, 60 Leonard Ave, Toronto, ON
Participants will learn about the latest research on clinical, neuropsychological, neuroimaging and neuropathological manifestations of the concussion spectrum of disorders. This includes acute concussion, post-concussion syndrome (PCS) and neurodegeneration, including chronic traumatic encephalopathy (CTE). In addition, we will have an update on research in concussion in women and girls. A poster abstract session will be held during breaks and lunchtime.
FOR MORE INFORMATION CONTACT: Conference Services, PH: 416 597-3422 ext. 3448 E: conferences@uhn.ca
---
Scientific Meeting at the Krembil Brain Institute November 1, 2019 from 1:00-4:30pm
Toronto Western Hospital, Auditorium, West Wing, 2nd Floor
Website
FOR MORE INFORMATION CONTACT: Conference Services, PH: 416 597-3422 ext. 3448 E conferences@uhn.ca
---
Public Forum: Concussion and Mental Health November 1, 2019 from 6:00pm-8:00 pm
BMO Education & Conference Centre, Toronto Western Hospital,
60 Leonard Avenue, Toronto
Website
FOR MORE INFORMATION CONTACT: Conference Services, PH: 416 597-3422 ext. 3448 E: conferences@uhn.ca
---
2020 Traumatic Brain Injury Conference, Promoting Well-Being following TBI February 7, 2020
Marriott Downtown CF Toronto Eaton Centre Hotel
Website
Join us for an opportunity to learn about innovative and evidence driven strategies and recommendations to enhance wellbeing following TBI. This event will bring together the clinical, research and legal communities to network, learn and share research, clinical practice and personal experience in TBI. Learning objectives include:
Learn to incorporate evidence driven strategies to facilitate self-management of common symptoms following TBI.
Hear about current research innovations that highlight recommended best practice in treatment of TBI.
Gain an understanding of the legal issues surrounding medicinal and recreational marijuana use and prevention of substance misuse.
Be part of the action by submitting an abstract!
Visit https://events.myconferencesuite.com/TBI2020/page/Abstracts for more information.
Registration opens September 2019.
FOR MORE INFORMATION CONTACT: Conference Services, PH: 416 597-3422 ext. 3448 E: conferences@uhn.ca
---
Le 26ième congrès annuel de la Société Francophone Posture Équilibre et Locomotion (SOFPEL) se tiendra en Amérique du Nord pour la toute première fois sur le thème « L'art de se déplacer dans la ville » au Musée des Beaux-Arts de Montréal les 4 et 5 décembre 2019. Forte de plusieurs centaines de membres en Europe et d'une affiliation avec l'International Society for Postural and Gait Research (ISPGR), la SOFPEL valorise le développement, l'échange et le transfert des connaissances dans les domaines de la posture, de l'équilibre et de la locomotion.
La venue du 26ième congrès annuel de la SOFPEL à Montréal représente une opportunité unique de favoriser les interactions entre les étudiants*, les stagiaires postdoctoraux, les professionnels et chercheurs francophones de l'Amérique du Nord et leurs pairs Européens, notamment de la France, la Suisse et la Belgique. Ultimement, ces interactions entre les différents acteurs s'intéressant à la posture, à l'équilibre et à la locomotion pourraientmener au développement de futures activités internationales dans le cadre d'échanges d'étudiants ou de partenariats de recherche, par exemples.
Dans ce contexte, nous vous invitons à soumettre un abrégé pour une conférence scientifique orale ou une présentation par affiche en remplissant le formulaire de soumission disponible en ligne avant le 3 juin 2019 en cliquant sur le lien suivant : http://www.posture-equilibre.asso.fr/soumission-resume-sofpel-montreal-2019/Les règlements relatifs à la présentation des abrégés sont précisés dans ce formulaire de soumission et doivent être respectés. Les abrégés peuvent être rédigés en français ou en anglais.
Lors de la soumission de votre abrégé scientifique, vous pourrez aussi préciser si vous souhaitez participer aux prix suivants : meilleures communications scientifiques pour les étudiants et stagiaires postdoctoraux, meilleure communication scientifique pour jeune chercheur (moins de 5 ans après la date d'obtention du doctorat) et/ou le prix du public pour la meilleure présentation par affiche (toutes catégories confondues).
Un comité scientifique évaluera tous les abrégés scientifiques reçus et une confirmation d'acceptation de l'abrégé sera envoyée par courriel à l'auteur correspondant au plus tard le 5 juillet 2019. Notez que tous les abrégés sélectionnés seront publiés dans la revue Neurophysiologie clinique / Clinical Neurophysiology (facteur d'impact=3.614). De plus, les auteurs des abrégés scientifiques ayant obtenu un prix pourraient être invités à rédiger et soumettre un article complet pour une éventuelle publication dans le numéro spécial en lien avec le congrès de la SOFPEL.
N'hésitez pas à communiquer avec nous si vous avez des questions : sofpel2019@gmail.com
– le 3 juin 2019
---
The 13th World Congress on Brain Injury is coming to Toronto March 13, 2019 and we are proud to be a Platinum sponsor
We would like this World Congress in March of 2019 to be the best conference ever – the best content, the best attended and the best sponsored!
In order to do so, we need our Canadian experts to respond to the call for abstracts below. Please note that the due date for abstracts is November 19th
CALL FOR ABSTRACTS , Toronto, ON
– March 13, 2019
---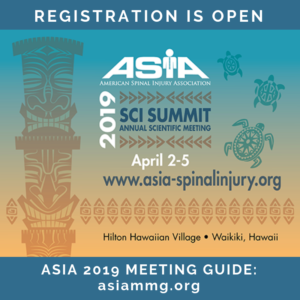 Join us in Hawaii for the ASIA 2019 Scientific Meeting "SCI Summit" Registration is Open.
Book your hotel room and air travel now! Complete conference information can be found online here in the Mobile Meeting Guide.
April 2-5, 2019
---
Canadian Advances in Neuro-Orthopedics For Spasticity Congress (CANOS), University of British Columbia (UBC) division of Physical Medicine and Rehabilitation, April 5-6, 2019.
---
2019 GTA Rehab Network's Best Practices Day , Toronto, ON May 3, 2019.
---
2019 Tamarack Ottawa Race Weekend, (3 days prior to the CAPM&R 67th Annual Scientific Meeting in Ottawa-Gatineau). The Ottawa Race Weekend is one of the largest road race events in Canada and attracts world-class professional athletes. In 2018, over 35,000 participants ran in 6 events, including the marathon, half-marathon, 10K, and 5K – bring your families and run together in the family 2K. Visit https://www.runottawa.ca/ for more details and to register! May 25-26, 2019.
---
CAPM&R 67th Annual Scientific Meeting, Ottawa-Gatineau, ON, May 29 – June 1, 2019.
---
8th National Spinal Cord Injury Conference, Niagara Falls, ON, October 17-19, 2019.
---

58th International Spinal Cord Society Annual Scientific Meeting in Nice, France from 5 – 7 November 2019. Abstract Submission Opens 4 January and closes on 30 April 2019. November 5 – 7, 2019